Shyamji Krishnavarma (1857-1930)
Ganesh Srikrishna Khaparde (1854-1938)
Dr. Joachim De Sequeira Coutinho
Waman Sakharam Khare
Born about 1865 in Nasik. B. A., L.L.B. Owned a little land and had a good practice as a pleader worth about Rs. 500 a month. Khare was educated at the Nasik High School and Elphinstone College, Bombay (B. A., 1890). Became L.L.B. in 1893 and started practice in Nasik. Became an agitator since 1895, at first of a mild type. In 1905 he began to become a leading figure in connection with the Shivaji celebrations. Towards the end he became so violent that the local moderates said he had lost his head over political matters. He was the father of sedition in Nasik and the teacher of the Savarkar family who carried his lessons into practice in the Nasik conspiracy.
In 1909 proceedings were taken against him under section 108 C. P. C., on account of his seditious speeches and an order was passed binding him over under section 115, C. P. C. This order was upheld by the Bombay High Court. His Sanad as a pleader was also withdrawn by the High Court and his suspension was ordered to last so long as he was bound over.
On this he became a Sanyasi and declared that he would follow a religious life until the end of the period for which he had given security. In this character he wandered about in the Deccan and made his headquarters at a place in the Pune district. He was last heard of in September 1910 as an inmate of the lunatic asylum at Dharwar.
Shyamji Krishnavarma (1857-1930)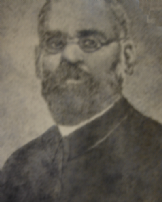 Shyamji Krishnavarma (not Shyamji Krishna Varma; his surname was Bhansali) was born on 04 October 1857 at Mandavi (Kathiavad- in Gujarat). He lost both parents by the age of 10 years. His relatives helped him to come to Mumbai for High School studies. He learnt Sanskrit in a traditional Pathshala. In 1875, he married Bhanumati, daughter of Seth Chhabildas Lallubhai (famous for Chhabildas High Schools in Mumbai). In 1876, Prof Monier Williams (who became famous for his Sanskrit-English dictionary) visited India. He was looking for an assistant who was good in Sanskrit as well as in English. Shyamji was such a man. Shyamji organised a series of lectures in Sanskrit on behalf of Arya Samaj. Notable persons of the time like Kunte, Krishnashastri Chiplunkar, Justice Ranade and Gopalrao Deshmukh were impressed by Shyamji's scholarship. But things did not work out fast enough. Prof Williams went back to Oxford.
Shyamji borrowed money from his father-in-law and came to England in March 1879. Prof. Monier Williams said that he had not promised any help. Shyamji then registered with Balliol College, Oxford and obtained B.A degree in 1883. When Prof Williams realised the potential of Shyamji, he wrote a letter of recommendation to Sir Richard Temple, the Governor of Bombay province who in turn, persuaded Maharaja of Kutch to offer a scholarship of 100 pounds/ year to Shyamji. In 1881, Shyamji read a paper at the Royal Asiatic Society of Great Britain and Ireland. He emphasized that the art of writing was known in Vedic times. As a result of presenting this paper, he was elected a Member of the society.
Marquis of Harlington, the then Secretary of State for India sent Shyamji as India's representative for the fifth Oriental Congress in Berlin. Shyamji emphasized that Sanskrit was a living language. In 1883, Shyamji was sent as India's representative to the Oriental Congress, in London by the Earl of Kimberley, the then Secretary of State for India. Shyamji joined the Empire Club which had among its members former governors, governor-generals and Army Generals. He became well known to Prof Max Mueller, Dadabhai Naoroji and former Governor General, Lord Northbrook. In 1884, Shyamji became a Barrister from the Inner Temple and returned to India in January 1885. From 1885-88, he served as Dewan (minister) of Ratlam state (salary of Rs. 700 per month plus cash of Rs. 32,000 at the end of service). From 1888-1892, he practiced as a Barrister at Ajmer. From 1892-95, Shyamji was Dewan of Udaipur (salary of Rs.1000 per month). Thereafter, from 1895-96, he served as Dewan of Junagadh state with a salary of Rs.1500 per month, when things started to go wrong. Shyamji had done a favour to an Englishman named Meconoki whom he knew in London. Shyamji used his influence and offered a suitable post to Meconoki. But he conspired against Shyamji and as the result Shyamji was dismissed from the position of Dewan of Junagadh. Shyamji was furious and fought for justice. But as soon as it was known that his fight concerned an Englishman, all the other Englishmen closed ranks and refused to listen. He appealed right up to the Secretary of State for India, but to no avail. After Shyamji's dismissal from Junagad, Maharana of Udaipur wanted him to come back as his Dewan. But Sir Curzon Wyllie who was Governor General's Agent in Rajputana refused permission. He said that Shyamji had been declared unfit to hold the office of Dewan by the British Resident at Junagadh. He cannot be appointed as Divan of Udaipur, until that Resident clears the name of Shyamji. As the British Resident himself was involved in the conspiracy to remove Shyamji, there was no chance that he would change his mind. Further details are obscure, but it seems that he did become Dewan of Udaipur.
Shyamji had burnt his fingers. He realized what the British justice meant in practice. He sought help of Tilak. However, in 1897 the two British officers Rand and Lt Ayerst, were shot dead by Chapekar brothers, for insults and humiliations suffered by the people of Pune during the recent outbreak of plague. Shyamji thought that if Tilak's house was searched by the police, they would find his letters and harass him too. He, therefore, hurriedly resigned as Dewan of Udaipur, quietly left India and came to London and purchased a house on 60, Muswell Hill Road.
On 18 February 1905, Shyamji founded Indian Home Rule Society. Indian members of the British Committee of the Congress Party were becoming disaffected with the British members of the committee. They were attracted to Shyamji's society. Among its members we find - Barrister Rana, Barrister Parekh, Dr C M Muthu (he looked after Savarkar in Brighton ), Mukundrao Jaykar, Suhrawardy and Godrej (he helped Savarkar and Cama in Paris).
Shyamji also started his monthly magazine the Indian Sociologist. It was proscribed in Britain four years later. His monthly ran from January 1905 to December 1914.
In 1905, Shyamji purchased a house on 65, Cromwell Avenue, London N6 to be used as the students' hostel. This was inaugurated as INDIA HOUSE by My Hyndman, a Scottish Socialist on 1 July 1905. Dadabhai Naoroji, Lala Lajpat Rai, Madame Cama, Mr Squelsh of the Justice paper and Mr Sweeny of the Positivist Society were present at the ceremony. (The paper Justice ran from 19 January 1884 to 22 January 1925, it was renamed Social Democrat and ran from February 1925 to December 1933. The Government of India banned the paper Justice in 1910).
In 1905, Tilak's Kesari carried an editorial about Shyamji's activities in London including his starting of the students' hostel 'India House'. In Pune, Savarkar read about Shyamji's activities in Tilak's paper Kesari. He also came across an issue of Shyamji's monthly the Indian Sociologist, which contained information about scholarships being offered by Shyamji. On the 9th, Savarkar applied for the Shivaji scholarship. Tilak gave him a reference and also assured that Savarkar had no intention of seeking government employment.
On 05 May 1906, a meeting to condemn the police action at a meeting in Barisal (Bengal, now in Bangladesh) to protest the partition of Bengal was held at Shyamji's home by the Indian Home Rule Society. At this meeting, Vitthalbhai Patel (elder brother of Sardar Patel ) and Bhai Paramanand were present. Dadabhai Naoroji and Gokhale were invited but did not attend.
On 23 February 1907, Shyamji made a donation of Rs. 10000 for political missionaries in India. In May 1907, Shyamji left London for Paris and carried out his propaganda from there. His address was 10 Avenue Ingress, Pasey, Paris. On 01 May 1909, benchers of the Inner Temple struck Shyamji off the register of Barristers.
In March 1911, Shyamji's article on Indian Unrest was published in the German magazine Die Zeichrift.
In 1903, Shyamji had endowed a sum of 1,000 pounds to the Oxford University in memory of philosopher Herbert Spencer who died in that year. This was returned to him in July 1909. The once venerated Sanskrit scholar had suddenly become a persona non grata because now he was seeking independence for India.
Shyamji died in exile in Switzerland on 30th March 1930 at 11.30 pm in Clinique La Colline. Babu Shiv Prasad Gupta, the leader of the Non-Cooperation Movement and Chief Patron of Banaras Nationalsit University of Banaras performed the last rites as Shyamji had no children. His wife Bhanumati donated Shyamji's collection of Sanskrit books to the Indian Culture Institute of Sarborne University of Paris. She also donated 10,000 Swiss Francs to Geneva University and 10,000 Swiss Francs to a local hospital in memory of Shyamji. Shyamji's wife Bhanumati also died Switzerland on 22 August 1933. They were both cremated at St George Cemetery, Geneva. They had no children and like many Indian freedom fighters they never saw their beloved motherland again.
Shyamji and his wife had made prepaid arrangement contract with the Ville de Geneve, the local government of Geneva to store and preserve their ashes in urns at St. George Cemetry after their death for 100 years and send them to India whenevr India became free from British rule.
* In August 2003, Narendra Modi, then Chief Minister of Gujarat, took their ashes from Geneva to Mandavi, the birth place of Shyamji. On 15 August 2004, due to the efforts of Hemant Padhya of Milton Keynes, a plaque was placed on his house in London.
Madanlal Dhingra (1883-1909)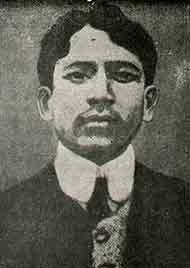 India won freedom due to the blood and tears shed by hundreds of nameless revolutionaries and their families who braved British barbarity and faced death, deportation, imprisonment and forfeiture of property. Freedom was certainly not won by pleas, prayers and petitions. It was won substantially by violent and armed struggle by revolutionaries, a process that culminated in the Naval Uprising of 1946. The struggle for freedom was carried out not only in India, but also abroad, by people such as Shyamji Krishnavarma, Veer Savarkar, Madam Bhikaji Cama, Barrister Sardar Singh Rana, Virendranath Chattopadhyaya, Sardar Ajit Singh, Lala Hardayal, Rasbehari Bose, Raja Mahendra Pratap and Champakraman Pillay. In this illustrious list of fiery patriots, Madan Lal Dhingra stands out for his sheer courage and supreme sacrifice. Madan Lal Dhingra went to the gallows on 17 August 1909. The centenary of his martyrdom is an occasion for us to remember his immortal saga.
Madan Lal Dhingra was born on 18 September 1883 in Amritsar. His father was an eye specialist and Civil Surgeon of Amritsar. Some say he was the first Indian doctor to reach that eminent position. Madan Lal was the sixth of his seven sons. Two of Madan Lal's brothers were doctors, one was an MRCP (1895); two other brothers were barristers. Madan Lal was married and had a son. If he had desired, he could have lived a life of luxury. But he chose to be a martyr for India's freedom struggle. Madan Lal Dhingra studied for Diploma in Civil Engineering at University College, London from 1906-09 (it is interesting to note that Dadabhai Naoroji was Professor of Gujarati in this college from 1856 to 1866. Ravindranath Tagore studied English Literature at the same college during 1878-1880.
India House and contact with Savarkar:
In 1905, Shyamji Krishna Varma purchased a house on 65, Cromwell Avenue, London to be used as the students' hostel. This was inaugurated as India House by Henry Myers Hyndman, President of the Social Democratic Federation and a votary of India's freedom on 01 July 1905. This India House is not to be confused with the present office of the Indian High Commission also called India House, which was built in the late 1920s and inaugurated by King George V and Queen Mary on 08 July 1930. Dadabhai Naoroji, Lala Lajpat Rai, Madame Cama, Harry Quelch of the Justice paper and Mr. Sweeny of the Positivist Review were present at the ceremony. In 1905, Lokmanya Tilak's Kesari carried an editorial about Shyamji's activities in London including his starting of the students' hostel India House. In Pune, Savarkar read about Shyamji's activities in Tilak's Kesari. He also came across an issue of Shyamji's monthly Indian Sociologist, which contained information about scholarships being offered to Indian students by Shyamji. In March 1906, Savarkar applied for the Shivaji scholarship. Tilak gave him a reference and also assured that Savarkar had no intention of seeking government employment. Accordingly, Savarkar arrived in London on 15 June 1906. Savarkar went to London ostensibly to study law. But he had other ideas in mind. He wanted to observe at first hand, the strengths of the British people which enabled them to rule over India and also to note their weaknesses and to think of ways of using them to achieve India's freedom. Savarkar also wanted to establish contact with Indian students who came from all parts of India and to enlist them in India's freedom struggle. Such meetings were easier in London than in India. In 1907 there were some 700 Indian students in Great Britain, of whom 380 were in London alone. Savarkar also wanted to establish contacts with revolutionaries of other countries like Russia, China, Ireland, Turkey, Egypt and Iran. He wanted to learn the art of making bombs from them, and put that knowledge and friendship into use for concerted attempts to overthrow the British Rule. He also wanted to smuggle pistols and ammunition into India.
The speed of Savarkar's activities in London was breathtaking. India House was constantly in the news from 1906 to 1910. Savarkar started regular Sunday meetings to discuss various topics related to India's future. It soon became popular among Indian students. In an interview given to Campbell Green of Sunday Chronicle in March 1909, Savarkar said, "India House is an inexpensive hostel. But for admission as a lodger, one does not need to have any specific political opinion. All that he has to do is to pay one pound (per week) for board and lodge. Political discussions do take place. Persons like yourselves and those who say that the British Raj is a divine dispensation also come here. Discussions take place. Those who can convince others by means of truth and logic win the day." Among those who attended India House were Bhai Parmananda, Lala Hardayal (founder of the Ghadar Party), Virendranath Chattopadhyaya (revolutionary and brother of Sarjoini Naidu), Senapati Bapat, Hemachandra Das (who was Transported to Andamans), MPT Acharya, VVS Aiyar, Gyan Chand Varma (secretary of Abhinav Bharat), Dadabhai Naoroji, Lala Lajpat Rai, Bipin Chandra Pal, Madame Cama, Sardar Singh Rana, Dadasaheb Karandikar and Khaparde (both Tilak's lawyers), Ravi Shankar Shukla (later Chief Minister of Madhya Pradesh), Saiyyad Haider Raza, Asaf Ali, Shapurjee Saklatwala (nephew of Dadabhai Naoroji and founder of the Communist Party of Britain). Interestingly, the young Barrister Mohandas Karamchand Gandhi met Savarkar at India House. Revolutionaries from other countries such as Egypt, Ireland, Russia, China and Turkey used to attend. One such Russian revolutionary who attended these meetings was Lenin.
Madan Lal had come to London to pursue his studies. Tall, well-built and handsome, he was a fun-loving guy and was naturally the centre of attraction of young men and women. Madan Lal's friends were boisterous and often sang romantic songs. In those days, freedom of the motherland was not particularly on Madan Lal's mind. In one of the Sunday meetings at India House, Savarkar was delivering an impassioned speech on India's freedom. Madan Lal and his friends were creating a ruckus in the adjacent room. The din forced Savarkar to interrupt his speech and peep into the adjacent room. There he saw Madan Lal and his friends enjoying themselves. "What's the matter, Madan? You talk of action and bravery and avoid coming to our weekly meetings. Is this the bravery you keep talking about?" reprimanded Savarkar. The words shamed Dhingra. He quietly left India House and did not show his face to Savarkar for several days thereafter. When he mustered courage to enter India House again, it was to find out if Savarkar was still annoyed with him. When the two met, Savarkar behaved as if nothing had happened between them. He spoke with the same affection. Emboldened, Dhingra asked, "Has the time for martyrdom come?" Savarkar replied, "If a martyr has made up his mind and is ready, it is generally understood that the time for martyrdom has come."
Sir Curzon Wylie (05 Oct 1848 – 01 July 1909)
Dhingra had now made up his mind. In July 1908, he deliberately joined the National Indian Association. This Association was doing its best to discourage Indian students from the militant path. Important British dignitaries attended their functions. Dhingra denounced Savarkar and other revolutionaries in the company of appropriate persons. He soon secured the trust of Miss Emma Josephine Beck, the secretary of the National Indian Association, and came to know the timings of visits of important English guests attending various functions. Eventually the opportunity came and Dhingra took full advantage of it. Having decided on his mission, Dhingra left India House to show that he disagreed with Savarkar. He took lodgings with Mrs Harris at 108 Ledbury Road, London W11 after Easter of 1909.
Few weeks before killing Sir Curzon Wyllie, Dhingra had tried to kill Lord Curzon, who was the most arrogant of all Viceroys. But fate saved Curzon twice. Dhingra had also planned to assassinate ex-Governor of Bengal, Bramfield Fuller. However, he arrived late for a meeting where these two were to be present and hence could not carry out his plan. Dhingra then decided to kill Sir Curzon Wyllie. It must be emphasized that it was not the killing of another Englishman just because he had a similar name. Curzon Wyllie was a very ranking officer. Sir Curzon Wylie had entered the British Army in 1866 and the Indian Political Department in 1879. He had earned distinction in the Afghan War of 1879-80, in Oudh, in Nepal, in Central India and above all in Rajputana where he rose to the highest rank in the Service. In 1901 he was chosen to be Political Aide-de-Camp to the Secretary of State for India. He was also the head of the Secret Police, a fact not mentioned in contemporary British newspapers. He was trying to get information about Savarkar and the revolutionaries. They, in turn, tried to find about the operations of the British Secret Police. Wyllie planted an informer in India House. His name was Kirtikar and he pretended to be a student of dentistry. Savarkar found out who Kirtikar really was. When exposed and threatened with life, Kirtikar gave all the information he had about the police operations to Savarkar.
Savarkar joined Grays Inn on 26 June 1906. After completion of his studies, he should have been called to the Bar on 05 May 1909. Vinayak Damodar Savarkar and Harnam Singh passed final examination. Sir Curzon Wyllie was trying to ensure that Savarkar and Harnam Singh were not called to the Bar. As a result, Harnam Singh was informed that "no further proceedings will be taken against him but he will be admonished by the Treasurer in the presence of the Bench." Savarkar was to be called to answer three charges :-
That by assisting in the circulation of pamphlets and by taking part in seditious meetings, he incited the Nation of India to revolt.
That he advocated assassination
That he expressed approval of assassination.
Savarkar was allowed time till 22 May in which to frame his reply. The reply was considered on the 26th May by the Benchers. The trial was held in camera. Therefore, evidence for prosecution which would not have been admitted in an open court was permitted. New charges were being added even when the trial was half way through. Two official detectives who had shadowed Savarkar for two years testified. Their reports were submitted. Letters by Savarkar which were in the possession of Government of India and those used in the Nasik Conspiracy trial of Babarao Savarkar were translated and given to Grays Inn. Savarkar was cross-examined by some of the eminent Barristers on 09 June. Just three weeks later i.e. on 01 July 1909 Sir Wyllie himself was shot dead by Dhingra.
On 08 June 1909, Babarao (Ganesh) Savarkar, elder brother of Veer Savarkar, was sentenced to Transportation for Life. All his earthly possessions, including saucepans and broom, were confiscated. His wife Yesu was left homeless, penniless and destitute. (She sought refuge in local crematorium for some time. She never saw her husband again and died childless in 1918). The prosecution could only prove that he had published four historical poems, which were construed as seditious. Three days later, Viceroy Lord Minto sent a telegram to the Secretary of State for India, "Ganesh Damodar Savarkar convicted under section 121 and 124A of the India Penal Code and sentenced to transportation for life and forfeiture of property."
The deportation of Babarao Savarkar enraged the revolutionaries in London. As a high officer in charge of India, Sir Curzon Wylie could not escape their wrath. His days were numbered.
Preparing for the assassination
Dhingra was personally acquainted with Curzon Wyllie. Wyllie had received a letter from Kundan Lal Dhingra (Madan Lal's eldest brother). On 13 April 1909, Wyllie wrote to Madan Lal suggesting that he should meet Wyllie. Dhingra pretended that he wanted to dicuss contents of that letter. On 01 July 1909, several prominent Britishers (including Curzon Wylie) and Indians were to attend a meeting of the National Indian Association at Jehangir Hall in the first floor of the Imperial Institute. The reception was given in the name of Lady Lyall, wife of Sir Alfred Lyall. Madanlal was an Associate Member of the Association. That is how he could approach Wyllie.
Savarkar discussed his plans with Savarkar. Savarkar asked Gyan Chand Varma "not to leave London and to attend the function at Imperial Institute." On 29 July 1909, Dhingra finalized his plans. He met Savarkar on that evening in Bipin Chandra Pal's house. Niranjan Pal was present at that meeting. Dhingra seemed to be in good spirits. Savarkar and Dhingra spoke to each other with great affection. Savarkar apprised Dhingra of the statement he was to make after assassinating Curzon Wylie. Niranjan Pal typed the statement and Savarkar asked Dhingra to memorize it. Savarkar then gifted Dhingra with a Belgian-make Browning pistol and took his leave with great affection. Dhingra was overcome with emotion. Savarkar said, "Do not show me your face again if you fail this time." Dhingra reassured him that this would not happen. The two friends departed. On 30 June, Dhingra went to India House to meet Savarkar but the latter had gone to Reading. Dhingra looked happy. On 01 July, Dhingra's Sinhalese friend Santiago had gone to Dhingra's residence but did not notice any difference in his behaviour. Dhingra then went to Koregaonkar who was to accompany him to the Imperial Institute. He had an early lunch and afternoon tea at his own residence at 108 Leadbury Street. He left his house at 2 pm armed with a revolver. He bought a brand new dagger with a leather casket and put it in his pocket. He then went to 'Funland' and fired 12 rounds from a distance of 18 feet. Of these, 11 were close to the bull's eye. He then asked his revolver to be cleaned.
At 7 in the evening, he dressed in lounge suit and a blue Punjabi turban. He loaded his Colt revolver and placed it in his right coat pocket. He placed one revolver each in another coat pocket and his vest. As he was unable to memorize the statement written by Savarkar, he wrote it in pencil on a sheet of paper and placed it in his inner coat pocket along with some newspaper cuttings. He put 10-12 shillings in his pocket. He hailed the first cab that came his way and left for the function.
The assassination
On 01 July 1909, Dhingra went as planned to the meeting at Imperial Institute. As luck would have it he had forgotten to take the invitation pass. However, as he was an Associate Member, he gained entry after signing in the visitors' book. Koregankar also arrived armed with a pistol. After the meeting was over, Curzone Wyllie seemed ready to leave. "Aji jaao na. kya karte ho!" prompted Koregaonkar to Dhingra. Dhingra now approached Curzon Wylie under the pretext of talking to him. The two opened the glass door and left the hall. As they reached the landing, Dhingra lowered his voice as if he wanted to discuss something confidential. Curzon Wylie brought his ear close to Dhingra. Sensing the opportunity, Dhingra removed the Colt revolver from his right coat pocket and pumped two bullets at point-blank range. The time was 11.20 pm. As Curzon Wyllie reeled, dhingra fired two more bullets. A Parsee doctor Cawas Lalkaka tried to come in between but Dhingra fired at him as well. However, Dhingra's attempt to shoot himself failed and he was overpowered. Even in this situation, Dhingra wrestled with his captors and even brought down one of them breaking his ribs. Dhingra was pinned to the ground. Only after his revolverwas taken away did his captors heave a sigh of relief. In the scuffle, Dhingra's spectacles were thrown away. Dhingra calmly told his captors to hand over his spectacles. When the examining doctor felt Dhingra's pulse, he was astounded to find that it was 'even'. After his arrest, the Police Officer asked Dhingra, "Do you want us to inform any of your friends of your arrest?" Dhingra cleverly replied, "There is no need. They will know about my arrest in tomorrow's newspapers." The Police were trying to find out if they could implicate any of Dhingra's friends. He proved a match for them. Dhingra was taken to Walton Street Police station.
The trial:
The British Press made some vicious allegations against Dhingra, taking advantage of remarks made by an ex-Army officer at the inquest on Wyllie's death. This was held at Kensington Town Hall before Coroner Mr C Luxmoore Drew. Dhingra refused to take part in the proceedings. At the inquest, Captain Charles Rollerton, an ex-Army officer of Broadhurst Gardens, Hampstead was present. This witness suggested the possibility of Dhingra having taken the Indian drug called Bhang because of his half dazed and dreamy manner. He added that natives of India very often took Bhang if they were going to perpetrate a deed of this kind. The Coroner asked Miss Beck, the Secretary of the National Indian Association, if she noticed whether Dhingra was under the influence of some drug; but her reply was in the negative. Dhingra, she said, seemed in a normal condition and was quite calm. During the trial, Mrs Harris, Dhingra's landlady, said she did not think he took drugs. Dr John Buchnan of Vauxhall Bridge was the first doctor to arrive at the scene of assassination. Dhingra, said the doctor, was perfectly calm. He seemed the calmest man in the crowd. During his trial Dhingra was examined by psychiatrists to decide if he was mentally sub-normal. Their tests were negative.
At the inquest held at Westminster before Coroner Mr John Troutbeck, Dhingra expressed his deep regret for the accidental death of Lalkaka. He stated that had Lalkaka not come in the way he would not have been killed. He had no reason to kill him.
When produced before Mr Hoarce Smith the Magistrate of Westminster Police Court, Dhingra said, " I do not plead for mercy: nor do I recognise your authority over me…" Dhingra was committed to the Sessions Court. Dhingra bluntly asked the Court, "...If the Germans have no right to rule over England what right have the English got to rule over India ? " During the trial Indians were not allowed inside the Court.
In his last days, Dhingra had wished that his clothes, books and other belongings should be sold and the money thus raised be given to the National Fund. However, these were confiscated by the Metropolitan Police (of London). Two trunks were taken away by Chief Inspector McCarthy. Dhingra had given a letter authorising Nitinsen Dwarakadas to be the owner of his personal belongings. But when the case came to Bow Street Magistrtate's court on 31 December 1909 it was ruled that as Dhingra had made no will the police were not bound to return Dhingra's belongings to Nitinsen! (London Times 01 January1910).
When Dhingra shot dead Curzon Wyllie, his brother Bhajan Lal was in London studying Law at Grays Inn. Four days after the event Bhajan Lal attended the public meeting to condemn Madan Lal. On account of that, Madan Lal refused to see Bhajan Lal when the latter visited him in the Brixton prison. Soon after their brother was hanged, his brothers dropped the surname Dhingra, with the exception of Dr Bihari Lal. As their first names ended in Lal they adopted that as the surname. e.g Chaman Lal Dhingra became Chaman Lal. ( In a similar manner, many Indian freedom fighters changed their names so that their relations would not be identified and harassed by the British Authorities.). When Savarkar went to visit Dhingra, he said, "I have come to seek your darshan". Both were overwhelmed on seeing each other.
Condemnation meeting:
On 05 July 1909, a meeting was held in Caxton Hall to condemn Madan Lal Dhingra. Aga Khan was in the Chair. The motion was proposed by Bhavanagari and seconded by Amir Ali. Agakhan put the motion to vote. After seeing many raised hands, he said that the motion was passed unanimously. Savarkar protested and said, " No, not unanimously. There are opponents of the motion as well. Take down my name, Savarkar. I oppose the motion."
There was great uproar. Bhavnagari became furious and wanted to get hold of Savarkar and expel him. Agakhan reprimanded Bhavnagari. A Eurasian named Palmer hit Savarkar near his eye. Savarkar started to bleed. Even then, Savarkar said, "I still oppose the motion." M P T Acharya, a friend of Savarkar then hit Palmer with a stick. Surendranath Banerjee expressed his anger. He said "Savarkar had a right to have his say. It was outrageous to attack him." Banerjee left the hall in protest. Women panicked and left the hall. Police rushed in and the meeting ended in disarray.
Afterwards, Savarkar wrote a letter to the Times and other newspapers. He maintained that as the matter was subjudice, discussing the case in public and using the words 'crime' and 'criminal' amounted to the contempt of the court. Savarkar's letter was published in the Times on Tuesday 6 July 1909.
Admiration from the enemy:
Dhingra's fearless patriotism prompted some Englishmen to plead clemency for him. One of them was W.T. Stead, editor of Review of Reviews. Stead was an admirer of Savarkar and a supporter of India's freedom. He had arranged lectures on Indian civilization by Bipin Chandra Pal at his residence. Stead had suffered three months' imprisonment for his idealism. In a letter written to Observer (25 July 1909), Stead contended that Dhingra had committed the murder in a fit of insanity and hence his death sentence be commuted to life imprisonment. The Evening Post, London expressed a similar opinion. While these opinions were being expressed, VVS Aiyar, Nitisen Dwarkadas and JS Master (editor of the Mumbai-based Gujarati daily, Parsee) met the Secretary for India and requested that Dhingra's dead body be handed over to them in order that his final rites may be performed as per his last wishes. Savarkar wanted to Dhingra's ashes to be respectfully collected and sent to different places in India. Several members of Secretary Morley's Council favoured life imprisonment rather than the death sentence for Dhingra. They feared that his martyrdom would ignite further acts of retribution. Some members of the Cabinet were also in favour of a life term for Dhingra.
But Morley was adamant that an assassin who was caught would be sent to the gallows and the same fate awaited Dhingra. Dhingra's valour infuriated King Emperor Edward VII. In a letter dated 17 August 1909, he wrote to Morley that Indian be barred from coming to England without valid reason. Such students learn treason while in England and incite others back home, he fumed.

In his memoirs, Wilfrid Scawen Blunt, the British poet and writer who also served in the Diplomatic Service writes (entry dated 24 July 1909) writes, "No Christian martyr ever faced his judges more fearlessly or with greater dignity...if India could produce five hundred men, as resolutely without fear, she would achieve her freedom. It was recorded in medical evidence at the trial, that, when arrested, Dhingra's pulse beat no quicker than normal, nor from first to last, has he shown any sign of weakening." On the day of Dhingra's martyrdom, leaflets entitled 'Ireland Honours Dhingra' were distributed and pasted on walls in Ireland. As chance would have it, Dhingra's martyrdom day coincided with Blunt's 69th birthday. Blunt remarked that they (meaning the British) had honoured him (Blunt) by choosing his birthday to hang Dhingra. For this day would be remembered as Martyrs' Day for several generations, exclaimed Blunt!
Martyrdom!
The day of Dhingra's hanging finally dawned. It was 17 August 1909. Several of Dhingra's friends made efforts to meet him for one last time in the Pentonville prison. At Savarkar's suggestion, JS Master gave a written application to that effect. He contended that he was Dhingra's close friend and hence be allowed inside the prison to meet him. He forwarded his application to the Under-Sheriff of London and the Home Office and awaited their response. His request was turned away at both places. Dhingra had assumed that he would die without meeting his friends. However, to the end, he remained calm and composed in the face of imminent death. He enjoyed a good slumber on the previous night and had to be woken up on the day of his hanging. He performed his morning chores as usual and even had a hearty breakfast. Meanwhile, several Indian youth had mournfully gathered outside the gates of the prison. They were however denied entry inside. Entry was also denied to the waiting journalists. At the stroke of nine, Madanlal Dhingra began his last journey to the gallows. A Christian preacher named Hudson walked up to him to say the final Christian prayer for him. But Dhingra turned him away saying that he was a Hindu. The Deputy Under-Sheriff of London Metcalf read out the death warrant to Dhingra in the presence of Deputy Governor Hales of Pentonville prison and asked him the usual questions. But Dhingra ignored their questions and walked calmly to the noose. His bravery left the accompanying offcers dumb-founded. Officer Pierpoint stood at the hangman's noose waiting for Dhingra. Dhingra smiled at him and ascended the steps to the platform. He himself placed the noose round his neck. Soon thereafter, the wooden platform underneath was withdrawn. Dhingra's body dropped eight feet and lay hanging. As per convention, his limp body was left hanging for half an hour. When his body was brought down, it showed no trace of fear. Master was allowed to be present at the post-mortem examination which was performed by Dr. Wyliss Shroeder and Asst. Medical Officer Dr. Francis Forewood of Pentonville prison. He wrote the death certificate in the presence of five witnesses. Master again requested that he be allowed to claim Dhingra's dead body so that his final rites could be performed. However, this request was turned down. The Times, London of 18 August 1909 reported on page 7 column 2, " Shortly after 9, death was announced. Pierpoint was the executioner. An application for leave to have the body cremated was refused and it will be buried in accordance with the usual custom, within the walls of prison."
Then Master followed Under-Sheriff outside the prison. The correspondent for the Daily Mirror interviewed Master. He asked, " Will Dhingra be considered a martyr by the Indians ?" Master replied, "Certainly. He has laid down his life for his country's good. Whether his idea of this 'good' was right or wrong is a matter of opinion."
Madanlal Dhingra went to the gallows in Pentonville prison in London on 17 August 1909. This prison was built between 1840 and 1842.
Two Indian revolutionaries went to the gallows here. Madanlal Dhingra on 17 August 1909, and Udham Singh on 31 July 1940.
Dhingra wished that last rites according to Hindu Dharma should be performed on his dead body and it should be cremated. Many Hindus petitioned to the Home Secretary Mr Herbert Gladstone that Dhingra's body should be handed over to them, as Brahmins were ready to perform the last rites. This request was denied! The last wish of a man sent to the gallows was denied! His body was put in a coffin, which was buried within the prison premises.
THE TIMES, London of 18 August 1909 reported on page 7 column 2,
" Shortly after 9, death was announced. Pierpoint was the executioner. An application for leave to have the body cremated was refused and it will be buried in accordance with the usual custom, within the walls of prison."
(Note :- The Cremation Society of England was founded in 1874. So, cremation was definitely available in London in 1909)
After Dhingra went to the gallows, the Times, London wrote an editorial (24 July 1909) titled 'Conviction of Dhingra". The editorial said, "The nonchalance displayed by the assassin was of a character, which is happily unusual in such trials in this country. He asked no questions. He maintained a defiance of studied indifference. He walked smiling from the Dock."
Grudging admiration from the British Cabinet:
Dhingra's martyrdom evoked the respect of some members of the Cabinet. This was disclosed later to Blunt by Winston Churchill. Blunt writes (My Diaries, Vol.2, p. 288, entry for 03 October 1909), "Again we sat up late. Among the many memorable things Churchill said was this. Talking of Dhingra, he said that there has been much discussion in the Cabinet about him. Lloyd George had expressed to him his highest admiration of Dhingra's attitude as a patriot, in which he shared…He will be remembered two thousand years hence, as we remember Regulus and Caractacus and Plutarch's heroes and Churchill quoted with admiration Dhingra's last words, as the finest, ever made in the name of patriotism…"
Last statement:
As desired by Gyan Chand Varma, Sardar Singh Rana , who was then in Paris, published Dhingra's last testament on a postcard along with his photograph. Below the words 'Vande Mataram', was written 17 August 1909 (the day of Dhingra's martyrdom) and below this were written the following words, "To the sacred and inspiring memory of patriot Madanlal Chingra, who died for his country." Rana sent copies of these to Savarkar who was in London through Govind Amin. Savarkar in turn sent a large number of these copies to India. The Government soon banned it. Nonetheless, it became public. Madanlal Dhingra's final statement was as inspiring as his actions. Titled 'Challenge' it read as follows:
Challenge

"I admit the other day; I attempted to shed English blood as an humble revenge for the inhuman hangings and deportations of patriotic Indian youths. In this attempt, I have consulted none but my own conscience; I have conspired with none, but my own duty.
"I believe that a nation held down in bondage with the help of foreign bayonets is in a perpetual state of war. Since open battle is rendered impossible to a disarmed race, I attacked by surprise; since guns were denied to me, I drew forth my pistol and fired.
"As a Hindu I felt that a wrong done to my country is an insult to God. Her cause is the cause of Sri Ram! Her services are the services of Sri Krishna! Poor in health and intellect, a son like myself has nothing else to offer to the Mother but his own blood and so I have sacrificed the same on her altar.
"The only lesson required in India at present is to learn how to die and the only way to teach it, is by dying ourselves. Therefore I die and glory in my martyrdom! This war of Independence will continue between India and England, so long as the Hindu and the English races last (if the present unnatural relation does not cease!)
"My only prayer to God is: May I be reborn of the same Mother and may I redie in the same sacred cause, till the cause is successful and she stands free for the good of humanity and the glory of God!"

-Vande Mataram-
Tribute by compatriots:
On 17 August 1909, the Indian revolutionaries in London published the following statement in the memory of Dhingra. Titled "To the memory of our patriot Madanlal Dhingra", the statement said, "This day, the morning of 17th August 1909, will remain engraved in red letters in the heart of every Indian who loves his Motherland. This is the morning that our great patriot, our beloved Dhingra, is swinging to and fro with his sacred neck in the grip of the execution ropes in Pentonville prison. His high soul is rising from his earthly body but in spirit, he is with us, will remain with us, will guide us in the battle of freedom of our Motherland and his name, written in the history of India, will go down to posterity. The alien oppression of his Motherland he could not bear and he decided to help the movement, which is engaged in freeing Her, by giving his life.
"I told you that the English Court has no authority over me. I do not care for my life. You are all powerful. You can do what you like. But remember, that one day we shall be powerful and then we shall do what we like" were his last words when the English judge, who must have been feeling demoralized in his inner heart, told him that his life would be taken…And now our enemies have killed him. But let them remember that they will never; never succeed in suppressing or killing the movement.
"Moral force, like gentle tides at the touch of storm, sweeps away hills and lands. The act of a patriot comes like a storm to the moral waves of human society, and sweeping away barriers, leads the cause to success."
During his brief stay in London, Gandhi, the much-touted apostle of nonviolence, deplored Madanlal Dhingra and other revolutionaries to please the British, declared them anarchists and said, "Is killing honourable? Is the dagger of an assassin a fit precursor of an honourable death?" He also said that he wanted to purge India of the atmosphere of suspicion on either side and there was no reason for anarchism in India. Dhingra's martyrdom and his last statement evoked widespread sympathy and admiration in Ireland. Posters entitled "Ireland Honours Dhingra" along with the last statement adorned the walls in Ireland.
Dhingra the Immortal:
In an article written in 'Vande Mataram'on 10 September 1909, Lala Hardayal wrote, "Dhingra, the immortal, has behaved at each stage of the trial like a hero of ancient times. England thinks she has killed Dhingra; in reality he lives for ever and has given the death-blow to English Sovereignty in India." Madan Lal Dhingra's coffin was exhumed on 12 December 1976 in the presence of Natwar Singh, then Acting High Commisioner for India. This coffin too was flown back to India. Madan Lal Dhingra lives on in the hearts of his country men. Humble salutations to his memory!
Ganesh Srikrishna Khaparde (1854-1938)
Ganesh Srikrishna Khaparde (27 August 1854 – 1 July 1938) was a renowned Indian lawyer, scholar, political activist and a noted devotee of Shirdi Sai Baba. Ancestors came from Khaparda, a village in Akola District. His father was a clerk in one of the Hyderabad Contingent Cavalry Messes and accompanied the regiment to Delhi during the Indian War of Independence 1857. He then obtained a civil appointment in Berar and rose to the rank of Extra Assistant Commissioner. He was an able magistrate and died a rich man and the proprietor of houses and lands, in 1893.
G. S. Khaparde matriculated at the Elphinstone College, Bombay, in 1878. He became a B.A. and was appointed Fellow of Sanskrit and English by the Bombay University. In 1885 he took the L.L.B. and then appointed direct as Extra Assistant Commissioner in Berar, but failing to obtain the promotion he expected to Assistant Commissioner, he resigned after three years and started as a pleader. At his best he is said to have made about Rs. 4,000 a month.
From about 1890 he became a popular leader and in 1907 he was Vice-President of Amravati Municipality and of the District Board, having served on them continuously for 17 years.
His personal intimacy with Tilak dated back to 1897, when Khaparde's son was married to the daughter of Sardar Baba Maharaj of Poona, a great friend of Tilak. Before his death the Sardar appointed Tilak and Khaparde, with others, trustees of his estate; the trustees quarrelled with the widow, Tai Maharaj and out of this arose the famous Tai Maharaj adoption case. (Tilak was convicted of perjury, in connection with it by the special Magistrate and this was confirmed and the sentence reduced by the Sessions Judge of Poona, but the High Court of Bombay acquitted him.)
The idea of boycotting British goods seems to have originated with G. S. Khaparde, for it is on record that he convened a meeting for this purpose as early as 1896.
In 1897 the National Congress met at Amravati and Khaparde was President of the reception Committee. Throughout the following years he became more and more prominent as an agitator and his influence throughout the West of India was only second to Tilak's and probably exceeded it in Berar.
Khaparde was known to have been in correspondence with some of the principal persons concerned in the Poona murders of 1897 and one of the actual murderers, the elder Chapekar, is known to have visited Khaparde, disguised as a ballad singer, a short time before the murders.
Again about the time of the Royal visit to Hyderabad a Nepalese named Rudra Narayan Partab Jung was arrested in suspicious circumstances at Bolarum, but escaped and came straight to Amravati, across country, disguised as a mendicant. He was found to have a kukri and a sharp dagger and was prosecuted under the Arms Act. On his conviction one of Khaparde's men collected money and paid his fine.
In 1908, one of the principal accused in the Maniktolla Garden Bomb case said that he had visited Khaparde at Amravati to tell him that the revolutionary party in Bengal were prepared to make bombs and to ask for the subscriptions which Khaparde had promised. He also said that Khaparde had sent B. H. Kane (a youth belonging to Nagpur who was finally acquitted in the Alipore case) to Calcutta to learn the manufacturing of bombs.
In August 1908, Khaparde went to England in connection with Tilak's appeal. There he associated with the leading revolutionaries and the prospectus of B. C. Pal's seditious Swaraj magazine was signed by Khaparde and Pal jointly. Khaparde took the chair at one of the India House Sunday meetings on October 11th, 1908 and in his speech described Bande Mataram as "the war cry of every true Indian".
After the assassination of Sir William Curzon Wyllie (1st July 1909) a correspondent reported that in conversation Savarkar said that "Khaparde was a sympathiser with such deeds". Khaparde came to B. C. Pal's house the other day and said that "still there was work to be done; one assassination was not sufficient".
In 1910, he returned to Amravati having first sailed direct to Rangoon and visited Tilak in jail at Mandalay.
Later, Khaparde was a founding member of Tilak's Indian Home Rule League in 1916 and was a member of the Congress's deputation to the Viceroy on constitutional reforms. Between May 1919 and January 1920, Khaparde was in England again as a delegate of the Home Rule League's deputation to the Joint Parliamentary committee. During his stay of seven months he made speeches in England. He becomes popular by way of his wit, humour and mannerism and hence some news-paper described him as Mark Twain.
Following the inauguration of Montagu-Chelmsford Reforms, he was selected a member of the Imperial Legislative Council. However, in 1920, Khaparde left the Congress anticipating Gandhi's Non-cooperation movement. Between 1920 and 1925, Khaparde elected a member of the Central Legislative Assembly.
G.S. Khaparde was also a noted devotee of Shirdi Sai Baba. His first interaction with Sri Sai Baba was in December 1910 when he sought refuge at Shirdi escaping the incarceration and purge of political dissidents in India at the time. Between 1910 and 1918, his Shirdi diary recording visits to Sai Baba shed much light on Baba's life, his routine and his work. G.S. Khaparde died on 1 July 1938. He was survived by his son Balkrishna, also a lawyer and leader.
Hoti Lal Varma
Born about 1877. Jat by caste. Of humble origin; the son of a cultivator of the Mathura District. Educated at Agra Collegiate School and passed the Middle School Examination, but failed in the Entrance Examination of the University. After this said to have been converted by a Mr. Maclean, missionary, who sent him to St. Stephen's College, Delhi, to complete his education. Was there only a few months and then went to Calcutta where he was employed in the office of the Amrita Bazar Patrika.
He had links with many isolated phases of revolutionary activity in India and abroad and that the places and persons visited by him in his extended tour are all recorded by him in his diary.
In 1905-06 he wandered about India getting employment on various newspapers, the places visited being Agra, Ajmer, Bombay/Lahore, Muzuffarnagar, Meerut, etc., ending up in December 1906 again at the Amrita Bazar Patrika office in Calcutta. He left Calcutta (December 1906) for Hong-Kong (arrived December 23rd, left 30th April 1907), Shanghai (arrived 3rd May), Kobe (arrived 4th June), Tientsin (arrived 27th June) and travelled in China till July 22nd, visiting the British Indian troops in China and attempting to create disaffection among them as he had done in Hong-Kong. On the 12th July he was turned out of the lines of the 41st Dogras.
He returned to India via Tuticorin (September 15th) and went to Pondicherry (16th). Here he stayed till October 3rd making friends and trying to arrange for the import of arms into India by this route. He then went to Bombay and was there from 6th to 14th November. He has recorded in his diary meetings during this time with 'Mr. Tilak' and 'Mr. Khaparde ' as well as with a Mr. R. K. Prabhu, who is believed to have been the Bombay Agent of the Maniktolla Garden conspirators.
On November 15th, 1907, he left for Europe and arrived at Marseilles on December 5th. He sent a wire announcing his arrival to Shyamji Krishna Varma in Paris and left the same night for Paris where he arrived next day. He stayed in Paris till December 22nd and was seen on the 23rd for London by MPT Acharya and Senapati Bapat for whom a warrant was issued in the Maniktolla case.
Hoti Lal stayed only three days in London and left again for India on December 27th via Marseilles (29th). He sailed on January 1st for Alexandria where he landed on the 6th and went to Cairo. Their he interviewed Dr. Rutherford at the National Hotel and talked about 'Congress affairs'. From Cairo he went to Suez and being hard up for money, sent the following telegram of which the original has been recovered: To Tilak, Poona. "Fifteen sterling required telegraphically" Varma.
It is not known whether the money was sent. He arrived in Karachi on January 31st and after visiting one or two other places left Jodhpur on February 14th for Poona where he stayed with Tilak till the 25th. Here he met amongst others G. S. Chakravarti, manager of Arabindo Ghose's paper the Bande Mataram of Calcutta and P. M. Bapat whom he had recently seen in Paris. He then went to Bombay (26th), where he met G. N. Potdar (B. A., Tokio), a Japan-returned suspect and proceeded to Amraoti where he stayed with G. S. Khaparde from February 28th till March 2nd. He then proceeded to Ahmednagar to look up Senapati (P. M. Bapat), but failed to find him and went on to Madras where he stayed till March 10th. On this date he posted from Triplicane the seditious leaflet 'A message to the Punjabis' to Subedar-Major Ahmad Din at Hong-Kong, of which evidence was afterwards given at Hoti Lal's trial.
From 11th March to 9th April he was at Pondicherry, again making arrangements for the import of arms. He then went on to Calcutta (April 12th). Here he was associated with some members of the Maniktolla gang and from some notes in his diary and from other evidence it appears that he visited the lines of the 10th Jats at Alipore, ostensibly for subscriptions. He then went on to Ranchi, Allahabad and Aligarh (arrived 21st April). On 11th May he sent a telegram to the Bande Mataram of Calcutta which was published in the issue of May 13th, as from our special correspondent/in which he expressed sympathy with the Maniktolla revolutionariess under trial and with the assassins of Muzaffarpur.
Meanwhile the leaflet 'A message to the Punjabis' appeared in Aligarh and evidence of the delivery of seditious speeches by Hoti Lal was also collected. He left Aligarh on May 19th for Agra and was arrested in the Jat boarding house there on May 25th. He was convicted on 28th July 1908 and sentenced to 7 years transportation. He was subsequently tried in a supplementary case under sect; on 124-A, I. P. C., for disseminating the seditious leaflet mentioned above and for preaching sedition on various occasions and sentenced on 1st October 1908 to 5 years rigorous imprisonment on each of three charges, the sentences to run concurrently. On appeal to the High Court the sentence of seven years transportation was reduced to 5 years Transportation and the sentence of 5 years rigorous imprisonment was converted to 5 years Transportation, the sentences were to run concurrently. Edited Urdu weekly 'Swarajya'.
VVS Aiyar (1881-1925)
Birth and childhood:
Varahaneri Venkatesa Subramania Aiyar or VVS Aiyar was born in Varahaneri (a small hamlet in the 19th century and now a part of Tiruchirapalli) , Tamil Nadu in a Tamil Brahmin family. His father Varahaneri Venkatesa Aiyar belonged to a middle-class family. He picked up some English without much schooling. Later he and his brother passed the F.A. (First year in Arts) Examination, ranking first in the whole of the Presidency. So both were selected for government service and a job was offered to each of them in the Postal Department. Venkatesa Aiyar was made a postmaster in distant Ramnathpuram, on a salary of five rupees a month. After a while, he resigned his job and settled in Vadavoor, a hamlet now in another part of Tiruchi town and started a banking business of his own. His banking business thrived and he settled in Varahaneri. His outfit called Varahaneri Subramania Paropkara Nidhi was a flourishing concern. In 1888, he helped to found the Trichonopoly Varthaga Sangam Ltd., a sales and credit society. From 1893 to 1913, Venkatesa Aiyar was a Director of the Sangam, specializing in audit of accounts. During his later years, Venkatesa Aiyar was much concerned about the virulent propaganda of the Christian missionaries and their efforts directed towards the conversion of a large number of Hindus. He went from door to door canvassing in an attempt to bring them back to the Hindu fold. He even approached the Sankaracharya of the Kanchi Kamakotipeetam for permission to reconvert them but the Acharya could not give any sanction. Disappointed, Venkatesa Aiyar continued his efforts by word of mouth and by printed leaflets.
Venkatesa Aiyar married Kamakshi Ammal, hailing from the village of Chinnalappampatti near Karur. On 02 April 1881, his wife gave birth to their first son who was named Subramaniam. The date according to the Tamil calendar was the 22nd of Panguni in the year Vikrama and the birth star was Krittika, the star of Lord Subramania. At home, the boy was called Mani, the common abbreviation of the name 'Subramaniam'.
Ardently believing that the Hindu way of life must be taught to children even when they are young, Venkatesa Aiyar often gathered a good number of boys and girls of the neighbourhood and took them walking to visit the Srirangam and Tiruvanaikoil temples on festival days and told them stories from the Hindu epics and puranas. The heroic instincts of the young Subramaniam were spurred inspired by his father's tales of the ancient Hindu heroes. He had a good memory and narrated the tales to his own classmates. He also arranged to enact scenes from the epics and took the roles of Rama and Arjuna with home-made bows and arrows. Subramaniam or Mani as he was called took physical exercise seriously. He did bhaski (standing up and doing repeated squats) and dandal (similar to part of Surya namaskara; a repetitive movement between caturanga dandasana and the plank or a simpler version of urdhwa mukha swanasana), swung the karla kattai (Indian club) and was an expert swimmer. He was a very brave lad and soon became a leader to his friends.
Subramaniam passed the matriculation examination in 1895, ranking fifth in the Presidency. Joining St. Joseph's College, he passed his B.A. examination with credit in 1899. His subjects were History, Economics and Latin. He stood first in Latin. He was the recipient of the College scholarship in his studies. He was the favourite of his professors and in the discussions of the College Freethinker's Society, he showed annoying patience during discussion and smiled away all opposition.
In literature, Subramaniam's tastes were wide; he was at home with Virgil, Homer and Shakespeare; Kamban and Kalidasa, Spencer and Huxley, Schopenhauer and Emerson. He was particularly influenced by Emerson's essay "Self-help" which he later translated into Tamil. Chess and astronomy too interested him. He spent many nights seeing the stars with the aid of the telescope that the College had.
Youth:
In 1897, Subramaniam was married to Bhagyalakshmi, four years younger than him. She was to prove an able partner to him later in his days as a revolutionary. She also participated in the Non-cooperation and other Gandhian movements. She survived Aiyar and lived to a ripe old age of 73 years.
In 1902, Aiyar passed the Pleader's examination in Madras in the First Grade. He then enrolled himself as a First Grade Pleader in the District Court in Tiruchy. Life was comfortable and he spent his leisure hours playing chess. He sent solutions of chess problems to London and Holland. Like his father, he too became a Director of the Varthaga Sangam. Subramanian was also inclined towards Swadeshi and together with VO Chidambaram Pillai and Subramania Sivam, tried to start a Swadeshi Cotton factory. The venture did not take off.
Life in Rangoon:
After five years of placid life as a Pleader, destiny took an unexpected turn. A cousin of his wife, KG Pasupati Aiyar who had a flourishing textile trade with shops in Rangoon, Bangalore and Pondicherry suggested the Subramanian set up legal practice in Rangoon. The Indian business community in Rangoon badly needed a reliable Indian lawyers and Pasupati further arranged for Subramanian to be apprenticed to an English barrister. However, crossing the oceans was not approved by the orthodox and Subramanian's mother whether he would be able to keep up with the daily ablutions prescribed for a Brahmin youth. However, his father encouraged him and blessed his son with the words "Go like Saul and come like Paul". In 1906, Subramanian sailed for Rangoon. Subramanian was well liked by his senior, the English barrister who suggested to KG Pasupati Aiyar that Subramanian would do well to go to London and qualify as a barrister. Subramanian did not have the wherewithal to go to London. In Rangoon, Subramanian had befriended Dr. TSS Rajan became his close friend (TSS Rajan was an able doctor who after being insulted by an arrogant Englishman resigned from Government service and left for India, en route to London). Rajan raised enough finances to go to London and this whetted Subramanian's appetite to go too. Pasupati Aiyar came up with a scheme. Subramanian could dabble in shares for him (Pasupati) and thus earn his upkeep in London. Subramanian who knew nothing of stocks and shares learnt about them at the feet of Pasupati and soon became ready to depart for London.
Departure for England:
Subramanian left for London in the last quarter of 1907. He now shortened his name and from now on, came to be known as VVS Aiyar. The young Aiyar who left Rangoon for England wore impeccable European dress, had cropped hair parted in the middle. A manly moustache adorned his face. But for this love for European manners, he was still the old lover of his culture; his box was still full of books of classic works in Tamil and Sanskrit besides English and Latin. He had not forgotten to include a complete set of Ramayana in Tamil by Kamban.
When the ship touched Aden, two other Indian travellers joined him. One was a devout Sikh gentleman and the other was an Arya Samajist Hindu. Aiyar learnt by heart Sikh prayers like Japji and Sukhmani. The elimination of the caste system by Sikhism and the patriotism of the Sikh gurus, particularly Guru Govind Singh attracted Aiyar to his last days. He was a great lover of Sikhism and had planned to reform Tamil society on similar lines in the last weeks of his life. With the Arya Samajist, Aiyar gladly chanted Vedic prayers. As it happened, some Muslim travellers joined them at Cairo. Aiyar had the opportunity to know Islam as it was practiced abroad. All these experiences were to help him later when he was escaping from London using various disguises such that of a Sikh gentleman or a Muslim pilgrim or businessman. Aiyar arrived in London on 10 October 1907.
Initial months in London:
In addition to acclimatizing himself to an alien land, Aiyar enrolled in Lincoln's Inn. Study for barristership did not require regular attendance at school or college. Participation in twenty-four dinners in a year made the candidate eligible to appear for the examination. All study was to be the candidate's own effort. This provided Aiyar with a lot of free time and Aiyar familiarized himself with the London Share Market. Aiyar had taken a room in a lodging house at the onset. He enrolled himself for lessons in Western music and ballroom dancing. He learnt a few dancing steps. All this was to come to an abrupt end in three months. A friendly handshake and a casual conversation were to change his entire life forever.
First encounter with Savarkar:
Aiyar's search for a vegetarian mess took him to India House. Before discovering this address, Aiyar had questioned many of the seven hundred and fifty Indian students in Britain at that time of who a hundred were in London. India House had become a beehive of revolutionary activity. It was here that Aiyar stepped for the first time in 1907. Savarkar describes their first meeting thus: "In 1907 or somewhere thereabouts, one day the maid-servant at the famous India House in London handed a visiting card to us as we came downstairs to dine and told us the gentleman was waiting in the drawing-room. Presently, the door was flung open and a gentleman, neatly dressed in European costume and inclined to be fashionable, warmly shook hands with us. He told us he had been a pleader in Rangoon and had come over to England to qualify himself as a full-fledged barrister. He was past thirty and seemed a bit agreeably surprised to find us so young. He assured us of his intention to study English music and even assured us that he was keen to get a few lessons in dancing as well. We, as usual, entered our mild protest against thus dissipating the energy of our youth in light-hearted pastimes when momentous issues hung in the balance. The gentleman, unconvinced, though impressed took our leave promising to continue to call upon us every now and then. He was Shrijut V.V.S. Aiyar." Savarkar had over-estimated Aiyar's age: Aiyar was only twenty-six but looked older because of his sturdy build. To Aiyar, Savarkar who was only two years younger to him but was lean and bony looked much younger than his age. The initial visit left a lasting impression on both of them and they were to become life-long friends. Aiyar soon moved into the India house as a permanent lodger. A little later, Dr. TSS Rajan also joined the India House. The trio became the mainspring of activities in India House, with Aiyar becoming the Vice-President of Abhinav Bharat and Savarkar's right-hand man. In July, shortly after Aiyar arrived in London, Shyamji Krishnavarma was compelled to leave for Paris by Savarkar and others because the British planned to arrest Shyamji for sedition.
Aiyars's familiar creased suits gave way to every-day utilitarian wear. Lessons in Western music and ball-room dancing were given a go-by. Costly dinners and expensive entertainment of friends were forgotten. Even the interest in studying for law took second place.
In 1908, Savarkar wrote his epic 'The Indian War of Independence 1857' in Marathi. The English translation of this book was done by Marathi-speaking youth under the supervision of Aiyar. Aiyar also wrote Napoleon's biography in Tamil (this book is unfortunately lost for all time). Aiyar's Memoranda Notebook of his years in London has fortunately survived. Aiyar also created a unique cryptic code that even the British Intelligence could not crack.
Events in India such as the arrests of Phadke, editor of Arunoday, Mandlik, editor of Vihari, Shivram Mahadeo Paranjpe, editor of Kal as well as the arrest and imprisonment of Lokmanya Tilak created a stir in the Indian student circle in London. Dr. TSS Rajan taught the revolutionaries in India House to shoot from a revolver. MPT Acharya, Chota Dutt (brother of Ullaskar Dutt) and RM Khan tried to get training in Moorish and Spanish armies. In March 1909, Guy Aldred, a British friend of Savarkar brought Vladimir Ilyich Lenin to India House to meet Savarkar on four occasions. Incensed by the arrest and deportation of Savarkar's elder brother Babarao, Madanlal Dhingra assassinated Sir Curzon Wylie on 01 July 1909. A meeting of prominent Indians was held at Caxton Hall, London to condemn Dhingra's deed. It was attended by Savarkar, Aiyar, MPT Acharya and Gyanchand Varma. When Savarkar protested against the unanimous resolution condemning Dhingra, an English Barrister named Palmer hit Savarkar in the eye. Despite his bleeding eye, Savarkar did not yield and continued to protest vociferously. Aiyar used to send articles to Subramania Bharati in India regularly. They remained close friends despite their differences especially about Aiyar's laudatory reports on Curzon-Wylie's assassination by Dhingra. These events virtually forced India House to close down. Savarkar faced imminent arrest and went to Paris at the instance of his friends. In February 1910, Aiyar went to Paris to consult Savarkar on matters of great importance. In spite of entreaties by Shyamji Krishnavarma, Madam Cama and Aiyar, Savarkar returned to London to lead from the front and was promptly arrested. A Committee was formed to secure his release under the Chairmanship of Aiyar. Aiyar together with Shyamji Krishnavarma and Madam Cama had made plans to free Savarkar when the SS Morea carrying him from London to India was to dock at Marseilles. The plan failed.
Aiyar escaped from London to Amsterdam by posing as Veer Vikram Singh. Even in these trying circumstances, he did not fail to take the Kamba Ramayan with him; such was his love for the epic. When a British sleuth asked him about the initials VVS inscribed on his suitcase, he replied without batting an eyelid that he was Veer Vikram Singh from Punjab. From Amsterdam, he took a train to Paris where he stayed with Madam Cama. He learnt Parsi prayers from her and Muslim prayers from other friends and adopted the name Rustom Sait. Thus he was successfully able to reach the shores of India at Cuddalore via Rome, Constantinople, Cairo, Bombay and Colombo. He finally went to Pondicherry (present-day Puducherry) in October 1910. He remained in Pondicherry for over ten years. He was in regular touch with Aurobindo Ghosh.
In Pondicherry, Aiyar had to fight against British machinations against Indian revolutionaries. On 17 July 1911, Vanchinathan Iyer, a follower of Nilkantha Brahmachari killed Robert William D'Estecourt Ashe, the Collector of Tirunelvelli. Iyer had been exhorted by Aiyar because of the persecution of Chidambaram Pillai and Subramania Sivam at the hands of Ashe and Wynch, Ashe's superior.
On 22 September 1914 the German cruiser SMS Emden entered the Madras harbour and bombed the city. The British Colonial Government blamed this on the activities of the exiles in Pondicherry and urged the French Governor to deport V.V.S. Aiyar and his companions to Africa. The French police brought several charges against the revolutionaries, but failed to convict them. During the period November 1914 to March 1915, Aiyar translated the Tamil epic Tirukkural into English. He later revealed that he wanted to leave a legacy behind if he were forced to leave the country. Aiyar returned to Madras after World War I and worked as the editor of the newspaper Desabhaktan (Patriot) from 1917 to 1921. Aiyar also wrote books like Chandragupta Chakravarti Charitram and Mahatma Booker T. Washington (1919). Aiyar was arrested for sedition in September 1921 for an editorial titled Repression written on 06 May 1921. He spent nine months in prison. While in prison Aiyar wrote the book 'A Study of Kamba Ramayana'.
Aiyar was a visionary. He had prophetically anticipated Gandhi's Basic Education scheme of Education through Work in the essay Jan Seva which was appended to his book on Booker T. Washington. Aiyar established his Tamil gurukulam at Shermadevi in 1922-1923 on the same pattern. In 1924-1925, a controversy spearheaded by Dr. P Vardaraj Naidu and EV Ramaswamy Naicker broke out over an issue of democratic seating arrangement in the Gurukulam mess. The contoversy died out due to the intervention of Kavyakanta Ganapati Shastri with Aiyar's reputation intact. Aiyar is known as the father of modern Tamil short story.
Savarkar and Aiyar had not met since 05 January 1910. They did not meet again till 02 January 1925 when Aiyar came to meet Savarkar at Ratnagiri where the latter was incarcerated. They spent the entire day together. Alas, this was their last meeting. On 03 June 1925 came the stunning news of Aiyar's sudden demise. Aiyar lost his life while attempting to save his daughter Subhadra who had fallen into the Kalyanatirth river near the Papanasam Falls. This tragedy came as a bolt from the blue to Savarkar whose tribute to Aiyar is considered to be the greatest ever written by anyone in any language.
Dr. Joachim De Sequeira Coutinho
Born in Goa in 1885 in a family of erstwhile Saraswat Brahmins who had converted to Catholicism. He went to Europe for higher studies and became friends with Bhai Parmanand, Lala Hardayal, Shyamji Krishnavarma, Madam Cama, Virendranath Chattopadhyaya, MPT Acharya, Koregaonkar and VVS Aiyar. As Dr. Coutinho did not know any Indian language, it was difficult for him to take part in the activities of Abhinav Bharat. Koregaonkar and Acharya would act as translators for Dr. Coutinho. Dr. Coutinho felt that he too should work for the cause of India's freedom. Soon, he started attending the weekly meetings of the Abhinav Bharat. But there was a hitch. As Dr. Coutinho had come to London on a government scholarship, taking part in anti-British activities could have led to his disqualification. To fool the authorities, Acharya and Aiyar started referring to Dr. Coutinho as 'Shrikrishna Bharadwaj'. Influenced by Madanlal Dhingra's pride in Hindutva, Dr. Coutinho insisted that he be allowed to embrace Hinduism and take up 'Shrikrishna Bharadwaj' as his real name. But the far-sighted Savarkar met Dr. Coutinho separately and put his Hinduization in limbo. Savarkar thought that the British authorities would not suspect Dr. Coutinho as he was a Catholic subject of Portugal-ruled Goa. Only a week earlier, Dr. Coutinho's friend in Oxford University Koregankar had introduced Dr. Coutinho to Savarkar. After this meeting, Dr. Coutinho took up lodgings in India House and shared a room on the second floor with Acharya. Dr. Coutinho took active part in the Dassera and Golden Jubilee celebrations of The Indian War of Independence 1857. He also translated and distributed Savarkar's appeal 'O Martyrs!' in Goa, Portugal, Holland and the United States. Dr. Coutinho preserved the original English appeal for 40 years. Savarkar and Dr. Coutinho spent several nights on the first floor of India House discussing ways and means of freeing India from foreign yoke. Only Acharya and Aiyar had an inkling of these discussions.
In the summer of 1909, Savarkar completed his epic Marathi book The Indian War of Independence 1857. The book was considered inflammatory by the British Government and its proscription was imminent. On the night prior to a police raid on Savarkar's room, the threesome of Savarkar. Dr. Coutinho and Acharya met secretly. This turned out to be their last meeting. In that fateful meeting, Savarkar handed over to Dr. Coutinho the manuscript of his book tied in silken thread. Dr. Coutinho gave the slip to the British secret police and left London on that very night with this treasure. He changed boats and variously posed as a sailor, tourist and a seller of English books. He wrapped up Savarkar's inflammatory book between covers of English, French and American books. He finally landed in Lisbon. Thereafter, Dr. Coutinho lived anonymously and completed his higher studies with great difficulty. Dr. Coutinho carefully kept this precious manuscript for 40 long years. At 7.30 am on 15 August 1947 (India's Independence Day), Dr. Coutinho handed over this manuscript to his pupil Dr. Gohokar of the University of Lucknow. He also handed over to Gohokar a large bundle of the secret papers and pamphlets of Abhinav Bharat and copies of Talwar and Vande Mataram periodicals.
In the middle of 1909, Acharya met Dr. Coutinho in Lisbon and gave him secret instructions regarding Savarkar's book and had its location changed. Acharya returned to London and from there, he sent the English translation of Savarkar's book (bound in hard red cover) to Dr. Coutinho. Later, Dr. Coutinho was appointed Secretary to the President of the Republic of Portugal. Meanwhile, Acharya managed to give the British authorities the slip and landed in Germany. When Scotland Yard woke up to Acharya's presence in Germany, they intensified surveillance on Dr. Coutinho. Sensing danger, Dr. Coutinho sat up one night and burnt all secret papers related to Abhinav Bharat. A posse of high-ranking British and Portuguese officials accompanied by the President himself landed up one night at Dr. Coutinho's residence and conducted a search for incriminating documents. They were of course unable to find anything other than a few issues of Talwar and Vande Mataram. Dr. Coutinho was kept under strict surveillance for eight days. Bowing to intense pressure from British authorities, the President relieved Dr. Coutinho of his duties with a heavy heart on the ninth day (Dr. Coutinho had endeared himself to the President). Dodging a British arrest warrant, Dr. Coutinho went to Berlin which was then a haven for Indian revolutionaries. He became Vice-Principal of a college in Berlin.
Sensing that the First World War would end with the surrender of the German Kaiser, Dr. Coutinho slipped to United States and finally ended his anonymity. His impressive personality and erudition won him influential friends in the United States such as Theodore Roosevelt, Woodrow Wilson, Streseman and Robert Lansing. Through his good offices, Dr. Coutinho secretly helped the cause of India's freedom through organizations such as the Ghadr Party and KomaGata Maru. He would speak to Indian students in the United States and try to inspire them to work for India's freedom. To his chagrin, he found most of them self-centred and unenthusiastic about India' freedom. Some of them even reported about him to American authorities and created problems for him,. Some members of the Yugantar Ashram started by the Ghadar Party on 436 Hill Street, California gave support to Dr. Coutinho. This led to his labeling as an American Quisling. After the First World War, Dr. Coutinho met Madam Cama.
After Savarkar was sentenced to Transportation for Life, Dr. Coutinho had Savarkar's manuscript on The Indian War of Independence 1857 translated into French and sent it to France. The French translation received a four-page favourable review titled Le Savarkar martyr nationaliste hindou by French Socialist leader Ernst Pierrot in the French monthly Le Européenn. Dr. Coutinho had copies of this review distributed in Germany, Portugal, Holland, England, Scotland and United States and kept Savarkar's case alive internationally. This was followed by police raids on the residences of Madam Cama, Barrister Sardar Singh Rana, Virendranath Chattopadhyaya and Lala Hardayal but no trace was found of the mysterious Shrikrishna Bharadwaj.
In 1928, Dr. Coutinho married an American lady. He became Professor at George Washington University and at the Catholic University of America. From 1910 to 1920 he was in charge of the Brazilian section of the Pan-American Union. He was Director of Institute of Chinese Culture from 1943 for at least ten years. From 1918 onwards, he taught Geopolitics, Geography and Portuguese language at the Foreign Service School. He was conversant with English, Portuguese, French, Spanish and Latin. His patriotic fervour remained undimmed even during his stay in the United States. In January 1948, Dr. Coutinho appeared at the function to celebrate the dawn of India's freedom at the Indian Ambassador's residence to the surprise and delight of the assembled people. There he revealed himself to his student and alumnus of Bhonsala Military School DT Gohokar. The two untied the silken thread around Savarkar's manuscript. Dr. Coutinho also wrote a letter to Dr. Moonje. This event was informed to Savarkar. Around that time, the Polycultural Institution of America invited Savarkar to deliver a lecture on 'Hindu Culture' in the United States. However, events arising from the Gandhi Murder ensured that that was not to be. Prof. Gohokar brought Savarkar's manuscript to India while Savarkar was still a prisoner in the Red Fort. When Savarkar was finally acquitted in the Gandhi Murder Case on 10 February 1949, Dr. Coutinho was overjoyed. In a letter, he wrote, " For a moment, I could not believe that I, Savarkar and India are free! I cannot adequately express my satisfaction!! I forgot the trials and tribulations! But I cannot but express my deep regret at the destruction of the copy of Vande Mataram which I had kept as Sister Cama's memory and at the Partition of India." The letter had 'Vande Mataram' written at the top.
Dr. Coutinho passed away in the United States. His wish to return to his motherland India never materialized.
Adapted from article written by "Vasant" in Abhinav Bharat Special issue of Hindu weekly, 10 May 1953
Guy Alfred Aldred
Guy Alfred Aldred or Guy Aldred was born on 05 November 1886 in Clerkenwell, London. As he was born on Guy Fawkes night, he was named 'Guy'. He was brought up by his maternal grandfather. His first adventures in propaganda were with the Anti-Nicotine League, the Band of Hope, and the total abstinence movement, and he remained an abstainer in these respects all his life. While still a teenager, he developed a critical attitude to the Church. Later that year he gained a reputation as a "Boy Preacher", printing and handing out his own leaflets, which were often received with ridicule and disdain. He found employment as an office boy with the National Press Agency in Whitefriars House, where he was promoted to sub-editor. Working with an evangelist named McMasters, he co-founded the "Christian Social Mission", opening shortly after his 16th birthday as the Holloway Boy Preacher. His non-conformist approach aroused concern following his first sermon.
It was in around 1903 that Aldred first proclaimed his faith in India's freedom. Seven years later, he stirred the English public by actually launching a campaign, through press and platform against British imperialistic designs on India. The Indian Sociologist was an Indian nationalist newspaper edited by Shyamji Krishnavarma. When Shyamji left London for Paris, fearing repression by the authorities, the printing of the newspaper was first taken over by Arthur Fletcher Horsley. However, he was arrested and tried for printing the May, June and July issues. (He was tried and sentenced on the same day as Madan Lal Dhingra, who was convicted of the assassination of Sir William Hutt Curzon Wyllie). At Horseley's prominent trial the Lord Chief Justice, Lord Alverstone indicated that anyone printing that sort of material would be liable for prosecution. Nevertheless, Aldred, as an advocate of the free press, published it, bearing his own name. The police obtained a warrant and seized 396 copies of the issue. At the trial the prosecution was led by the Attorney General, Sir William Robson, at the Central Criminal Court. Robson highlighted parts of TIS which Aldred had himself written, particularly focussing on a passage which touched on the execution of Dhingra. Aldred wrote, "In the execution of Dhingra that cloak will be publicly worn, that secret language spoken, that solemn veil employed to conceal the sword of Imperialism by which we are sacrificed to the insatiable idol of modern despotism, whose ministers are Cromer, Curzon and Morley & Co. Murder - which they would represent to us as a horrible crime, when the murdered is a government flunkey - we see practised by them without repugnance or remorse when the murdered is a working man, a Nationalist patriot, an Egyptian fellaheen or half-starved victim of despotic society's bloodlust. It was so at Featherstone and Denshawai; it has often been so at Newgate: and it was so with Robert Emmett, the Paris communards, and the Chicago martyrs. Who is more reprehensible than the murderers of these martyrs? The police spies who threw the bomb at Chicago; the ad-hoc tribunal which murdered innocent Egyptians at Denshawai; the Asquith who assumed full responsibility for the murder of the workers at Feathersone; the assassins of Robert Emmett? Yet these murderers have not been executed! Why then should Dhingra be executed? Because he is not a time-serving executioner, but a Nationalist patriot, who, though his ideals are not their ideals, is worthy of the admiration of those workers at home, who have as little to gain from the lick-spittle crew of Imperialistic blood-sucking, capitalist parasites at as what the Nationalists have in India." Though a pacifist, he was moved by the nobility of Madanlal Dhingra's spirit which led to the assassination of Curzon Wylie.
Aldred also remarked that the Sepoy Mutiny, or Indian Mutiny, would be described as The Indian War of Independence. Aldred received a sentence of twelve months hard labour. Fate brought Savarkar and Aldred together in Brixton Prison. The two were not to meet for nearly forty years. It was eminent social reformer Dhondo Keshav Karve who brought the two together. In a letter written to Omprakash Kahol, Karve describes how this chance meeting came bout, " It was by accident that I came to know of Mr. Aldred. I wrote to the Humanist Society of Friends at Los Angeles, California for their literature. They sent me some and along with it the March 1946 issue "The Word" in which there was a column about the Society. When I read that issue, I thought it a unique publication. And I sent my subscription and wrote to Mr. Aldred. Since then, I have been in correspondence with him."
Aldred suffered imprisonment eight times fighting for India' cause, resisting war efforts and upholding human rights. During the last days preceding the Partition of India, Aldred made concerted efforts to oppose it and and influence British public opinion. It was largely due to his efforts that the Duke of Bedford confessed, " I consider Savarkar's argument that the Muslims have no more right to establish a community within the Indian Nation than the Jews have to establish a separate community as a nation inside the United States or inside Great Britain to be unanswerable." When Partition did come about, Aldred unequivocally condemned the applause of the Socialists and Pacifists as "criminal applause". He considered those Socialists of England who rejoiced at Partition "to be fools or knaves – actually knaves, for the applause is so much timeserving."
Aldred's magazine The Word was replete with arguments in favour of the Hindu cause. His ambition was that Hindu ideology may flourish in England. Writing under the heading Partition-The Reply, he argued, "Hindus have now a right to propagate their ideas in Britain. Since Partition has been imposed on India and since the Indian Motherland has been vivisected, the proper thing for all friends of India to do, and for the Indians themselves, is to Hinduise the West. Naturally, this is returning good for evil since Britain sadly need a little wisdom and a little philosophy. There is only one way to overcome the conspiracy against India. That is to carry the war to the enemy camp and to Hinduise British politics." It is difficult to believe at first sight that these words have flown from the pen of an Englishman. Only a freethinker of Aldred's caliber could write such words. Writing to Omprakash Kahol, Aldred said, "I do want to be in touch with India and actually like Thomas Paine with the USA would be proud to consider myself a citizen of Bharat." This was from a man who never visited India.
In 1946, Savarkar and Aldred resumed contact. In 1947, the Savarkar special issue of The Word was published. In January 1948, Savarkar was arrested in connection with the Gandhi Murder. At a time when friends and colleagues deserted Savarkar, Aldred acclaimed him and considered Savarkar to be the symbol of the Indian struggle. In April 1950, The Word Quarterly brought out a Special Double Number on the Gandhi Murder Trial with the official account of the trial of Godse, Apte and others with verbatim reports of speeches by Godse and Savarkar. Aldred did not approve of Gandhi's assassination. But outspoken as he was, he wrote, "The fact remains: Gandhi wrongly and hypocritically acclaimed by the West as an Indian Saint, wrongly put forward by Western Pacifists as a Pacifist, himself claiming with complete and utter disregard for truth, to have been a Pacifist for fifty years, was murdered by a young political idealist." As he said clearly, Aldred considered Savarkar to be a greater patriot than Gandhi and that caused him to follow the Gandhi Murder Trial so closely. He said that the arrest of Savarkar proceeded from antagonism and injustice.
Besides writing scores of pamphlets and booklets of topical interest, Aldred was author of a large number of philosophical works – Dogmas Discarded and Essays in Revolt being two of them. His radical views and revolutionary writings earned him the odium of British orthodoxy and accounted for his tribulations despite his penetrating brilliance. His monthly The Word was regarded as a harbinger of free thought. He led the United Socialist Movement and propagated his ideology of World Government and Pacifism.
Aldred settled permanently in Glasgow in 1922. In 1926, Aldred married his partner Rose Witcop. The couple had a son Annesley. To the last, he lived in virtual oblivion in George Street in Glasgow. After initially refusing hospital treatment for a heart condition, Guy Aldred died, almost penniless, in the Western Infirmary, Glasgow, on 16 October 1963, leaving his body to Glasgow University's Department of Anatomy. His remains were cremated at the Maryhill Crematorium, Glasgow on 04 May 1964.
Aldred's long-time associate and literary executor, John Taylor Caldwell, produced a biography Come Dungeon's Dark: The Life and Times of Guy Aldred, Glasgow Anarchist and ensured that Aldred's work was collated and preserved on microfilm.
Adapted from article written by Omprakash Kahol in Abhinav Bharat Special issue of Hindu weekly, 10 May 1953
Ashutosh Lahiri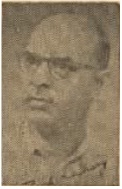 Ashutosh Lahiri was born on 30 June 1892 in Garudah village in Pabna district (Rajshahi Division) of East Bengal (now Bangladesh). He was inspired by the bomb explosion at Maniktola in Calcutta in 1908. He worked with revolutionaries like Yatindra Nath Mukherjee, Narendra Bhattacharya and Avinash Chandra Chakravarty. After collecxting arms, Lahiri would distribute them to revolutionaries. He also trained young men in making bombs. The British started arresting revolutionaries after the First World War. As part of these arrests, Lahiri was arrested on 18 May 1915, while studying for M.A he was tried for hatching a conspiracy against the Government. Deshbandhu Chittaranjan Das pleaded his case. Lahiri was sentenced to ten years in the Cellular Jail, Andamans. There he came in contact with Bhai Parmananda and Savarkar and was deeply influenced by them. In the Cellular Jail he was subjected to the inhuman conditions. Once, Lahiri refused to be yoked to the oil-mill for which he received 15 lashes of the whip. With each whip lash Lahiri cried out, "Vande Mataram". The warder complained to the Jail Superintendent who gave him solitary confinement for 11 months. Savarkar and his co-political prisoners succeeded in building a huge library in the Cellular Jail. Lahiri would read out from these books to other prisoners. Bhai Parmananda and Ashutosh Lahiri even resorted to violent tactics and threw a European jailor down. Lahiri remained in the Andamans from 1915 to 1921. He was then confined to Alipore Jail for one year and finally released in 1923. He joined the Hindu Sabha in 1924 and successfully organized a state-level convention of the Bengal Provincial Hindu Sabha in his home-town. When Muslim riots rocked Calcutta in 1925, Hindus from the Pabna region were driven out in their thousands from their homes. With a band of 300 volunteers, Lahiri stayed in the area for eight months and provided succour to the Hindus.
In 1932, Lahiri was arrested on charges of conspiring to murder Alfred Henry Watson, Editor, Statesman daily, Calcutta. He was released after two months for lack of evidence only to be arrested and confined for four years in jail under the Bengal Ordinance. After his release, he penned several articles at the instance of Piyush Kulam Ghosh, editor Amrit Bazar Patrika. He worked in the editorial department of 'Servant', an English newspaper started by Shyam Sundar Chakravarti that openly espoused the cause of India's freedom.
In 1937, Lahiri became the Secretary, Bengal Provincial Hindu Sabha. It was mainly through his untiring efforts that the annual conference of the Akhil Bharat Hindu Mahasabha was held in Calcutta in 1939. In 1939, Lahiri edited the Bengali weekly 'Hindusthan'. The weekly continued till 1942. The paper restarted in 1943 with the support of Shyama Prasad Mookerjee. Later, Lahiri disassociated with this paper. In 1941, Lahiri was elected to the Bengal Legislative Assembly where he continued to champion the cause of India's freedom.
After Partition, Ashutosh Lahiri met Nehru and acquainted him with the sorry tale of Bengali refugees and requested him to render some help to these down-trodden human beings of East Pakistan. Nehru refused to do so as Pakistan was a foreign country to which Ashutosh Lahiri replied, "Well, you do not do anything. We ourselves will form some armed bands and infiltrate in East Pakistan secretly to help the Hindoos there. You simply connive at it". Nehru at once flared up and said, "If you do so, my army will shoot you from behind." Nehru might have thought that being a revolutionary, Ashutosh Lahiri might actually do some such thing." (My Political Memoirs, by Dr.N.B.Khare, 2nd edition 1971, pp 359/360).Therefore he was put behind the prison bars in 1950 under the Preventive Detention Act.
In 1949, Lahiri was in the forefront of organizing the session of the Akhil Bharat Hindu Mahasabha in Calcutta against the backdrop of the Gandhi Murder. He later edited the Bengali and Hindi papers' Kesari'